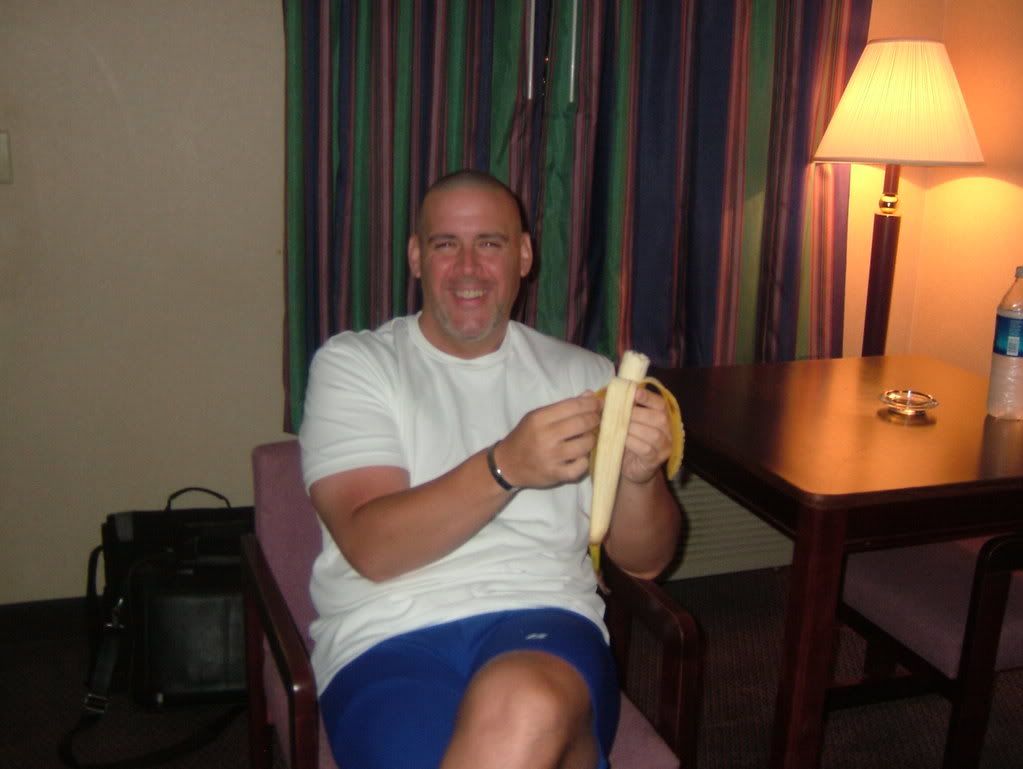 The Morning started at a very early 5:00 am with me up and eating my banana and drinking my water. By the time we got all packed up and out the door it was 6:15 am. It was about a 20 minute drive over to the park and after about 5 minutes or so we found a good parking spot. Once we gathered all my stuff we headed over to the main area. I was able to quickly get marked and pick up my race chip without waiting in line. As I made my way into the transition area my wife and kiddo found a good spot to setup camp. Found my transition area and got things setup quickly. Found my crew and was able to spend some time goofing around.
Finally they called the swimmers over to the lake and us duathloners:) to the start line. Now, I was really surprised to see only about 30 to 40 runners for the duathlon. We had to wait what seemed like forever for a few late comers and they were also trying to coordinate the swim and run starts. I have to say that they did a fantastic job coordinating the race.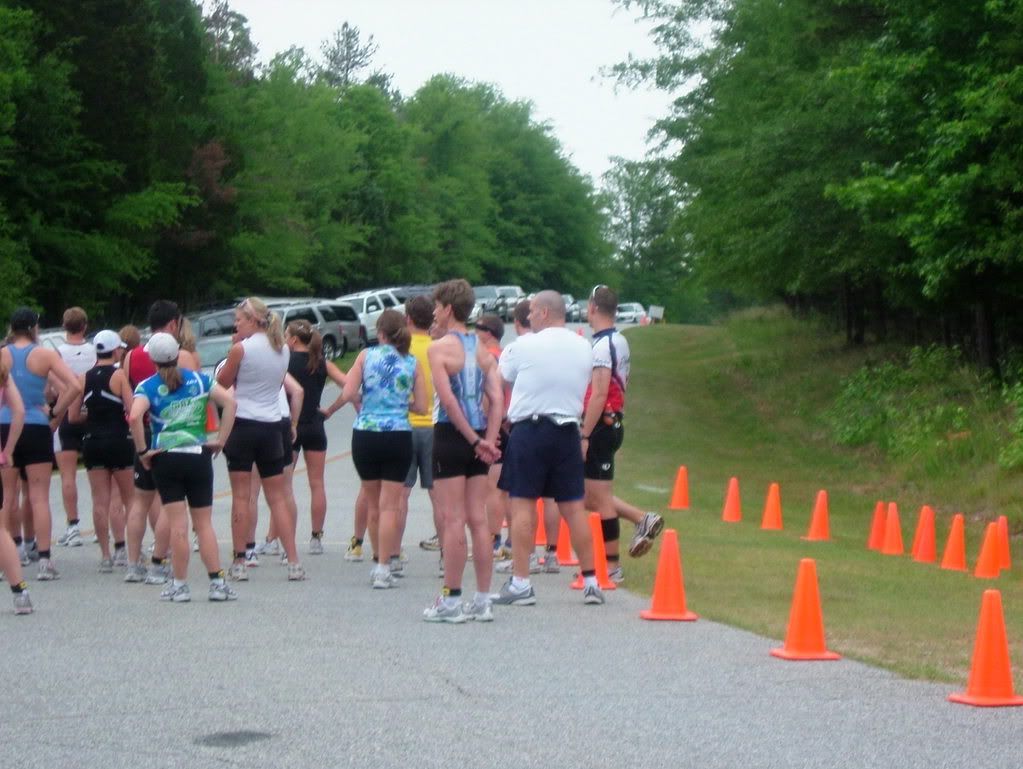 I waited very eagerly at the back of the small pack. The weather was just perfect for the event with overcast skies and the temp never hitting 75 degrees...perfect. When you look at the pick on the left that is pretty much the entire duathlon crew. Maybe about 10 or so runners cut out but not too much more then that. Also, you may be able to tell the we are at the bottom of hill for the start. Yes, they had us run up that for the first few tenths and then the course turned right onto a nice flat smooth road. After a few minutes of waiting we were off.
I stayed to the back and as we were heading up the hill I checked the pace and it was right at 9:30. In the pic on the left notice the older gentleman in the blue shirt and blue shorts, I'll get back to him a little later, just notice him.:) I hung back behind 4 or 5 runners for the first half mile and then I made my move and kicked it in high gear passing all of them. After that I decided not to look at my pace and just run as hard and as fast as I could. At the 2.5 mile mark the course went off road and onto a trail that was kind of a rolling downhill into the transition area. When I hit stop on the Garmin I was very pleased to see 26:21 (8:30 pace) for the first leg...WOHOO blew my goal out of the water.
I was very happy and feeling very strong at this point.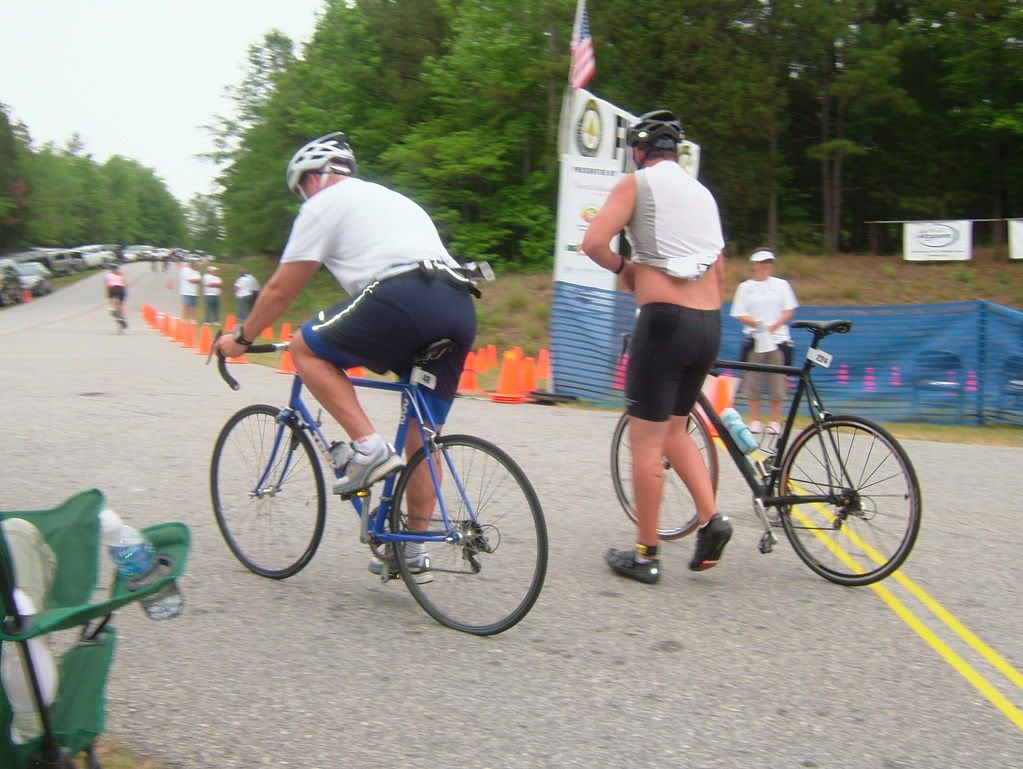 My transition time was very fast and once past the yellow line I mounted my rig and I was off on leg number two. Remember that old guy in blue, he's still running the first leg. Again, this leg also started by going up that little hill and then it leveled out nicely until we hit the main road and I saw...THE BEAST, that's my nickname for one of the monster hills on this bike route. Surprisingly the climb, while challenging, went well and at mile 5.8 the route leveled off again. As I was cruising down the road around 18mph I had this guy just fly by me and just as he gets past me his rear tire blows and he cuts right in front of me to pull over, I had to jump out of the saddle and move to the left and as I was avoiding flat tire guy another fast rider had to avoid me, no wrecks and everyone was ok.
I had a lot of people pass me on the bike and every person that passed I wanted to lay the hammer down and try and pass them back but I knew I had to ride my race. We still had several miles to go and I needed to just relax and have fun, so I did. At about mile 11 I had this woman ride right up beside me and say, "you have the greatest calves", as she passed me! I said to her...thanks but they must not be doing me much good your blowing by me!:) We both laughed. I checked her age...58...you go girl she was fast! I stayed with her for a few miles and then she took off and again I told myself...I'm running my race not hers, soak in the ride and have fun. So, remember the old guy in blue? Well at about mile 16 he blows by me like I was standing still, no joke. I was doing about 15mph at the time up a slow grade. He was 73 years old and in awesome shape for his age. Just amazing to see him do what he was doing. I actually caught back up to him and rode with him for about a mile and then he dropped the 73 year hammer on me.:)
I made the turn at mile 18.8 to head back to the park which required one last difficult climb. Before the climb there was a real nice descent that got me up to about 38mph and I was hoping "old blue" could hold together.:) Then as I was climbing up the last hill I had this girl pass me and as she was climbing she fell apart and I was able to pick her off. We turned right back into the park and it was all downhill from there. When I looked down at my computer as I approached the dismount area it read 1:22:00, I think. My bike time was somewhere between 1:22:00 and 1:33:00. I averaged just about 15mph for 22 miles. My bike computer got reset somehow when leaving this morning.
There I am coming in from the 22 mile bike ride, making sure to dismount before yellow line. Again, I felt like my transition time was at a good clip and I was able to get out on the final 10k leg. Now, the only bad part was we did the run from leg one in reverse which meant hitting the trail uphill. This was a 3.1 mile out and back 2 lapper. I kept my stride nice and short going up the trail and once I reached the top I hit the level pavement running. I made it to mile 2 and decided to walk through the water station.
That would be a recurring theme as I had to stop and walk several times during the final run. When I started the final 10k I noticed my right calf was really causing me some grief as well as both my quads. I felt like they were cramping up so I drank as much water and Powerade as I could. The picture on the left is me coming off the bike and heading to the final 10k run. The end of the first lap takes you right down the hill to the finish line so you have runners who are finishing on the right and runner heading into their second lap on the left. It got kind of hairy for moment because you have runners trying to finish strong and the slower runners trying to move to the left and out of the way. I was able to avoid any problems and head into my second lap.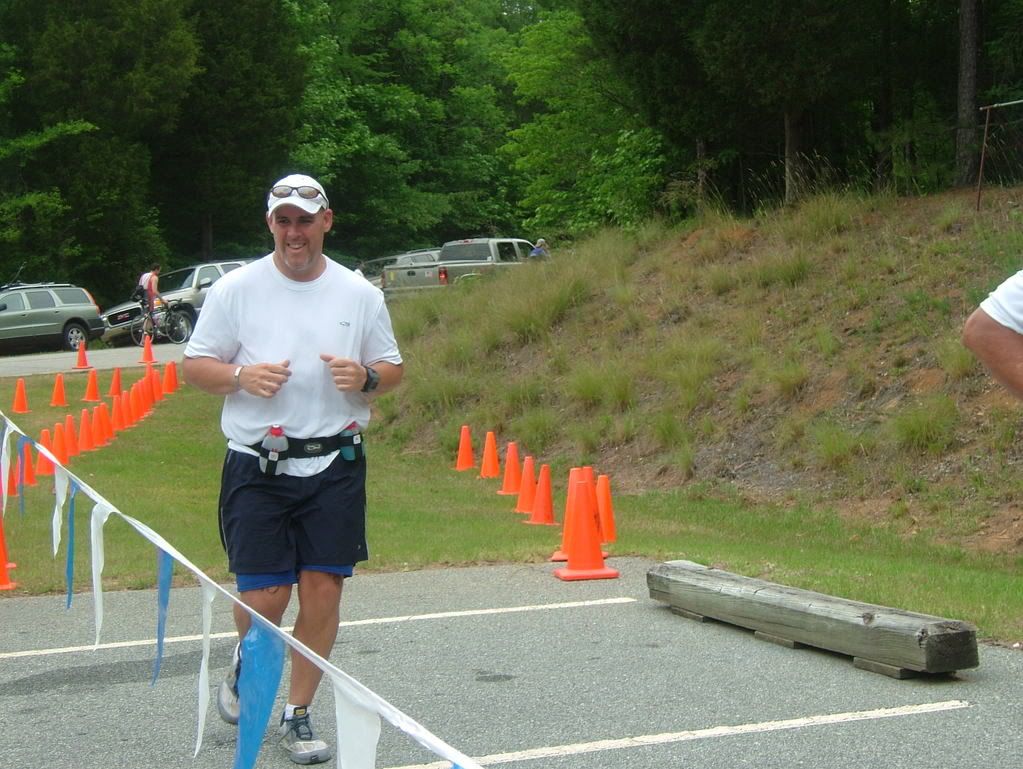 The picture on the right is me heading into my last 3.1 miles. My daughter slapped me five and I was on my way. By mile 5 my calf and quads seem to loosen up nicely and I was able to at least keep a nice steady 12 min pace. When I rounded one corner there was one gentleman that was severely dehydrated and had fallen over. Thankfully he had 3 or 4 race vols there and they called rescue to come pick him up. Hope he's ok! After rounding the corner it was all downhill to the finish. I was able to pick my pace up a little bit to try and salvage what walking I did but looking at my Garmin I knew I wasn't going to come under the 1:10:00 I wanted to. I'm ok with it and I think when I crossed the finish line the time was 1:15:40 something (12:13 pace).
This is me just before crossing the finish line of the final leg. I was so excited when crossing the finish line as I hugged my kid and kissed the wife. What an amazing experience...I have been bitten by the multi sport bug. In fact I think I'm going to do another duathlon at the end of July in this same series. It's down outside of Augusta, GA and it's a sprint distance. A 5k then an 11 mile bike, and another 5k. Anyway, even though I didn't hit my goal time on the last run because I did better then I thought on the first and second leg I far exceeded my goals for this race and even more importantly I had an absolute blast. We got back into town and had a great lunch at
Panera Bread
. I was hungry and it was yummy! Thanks for all the well wishes...I think I'm hooked already!! - Jason
Run #1: 26:19 (8:30 pace)---------Goal Time was sub 30
T1: 2:27 (Sure didn't feel like that long...I must have taken a nap:))
Bike: 1:28:43 (14.9 mph avg.)-------Goal Time was 1:35:00
T2: 2:30 (Again, these transition times are hard to believe)
Run #2: 1:12:35 (11:43 pace)--------Goal Time was 1:10:00
Overall Time: 3:12:36----------Goal Time was 3:14:00
Very happy with times. I finished in 4th place out of 4 in my age group for the duathlon. I should have been classified as a clydesdale. I would have been the only clydesdale in the duathlon! Oh well no biggie. I'm very happy with the first leg and a new PR for the 5k distance for me. My last 5k race time was 31:05 in Jan. what a great improvement in speed in a little over 4 months. Transition times were a real eye opener and I will be working on those for the next race. I am very happy with my results and look forward to really improving my overall endurance and speed in future races.