That's right back out on the road again. Tonight I decided to hit the pavement if only for one mile. I did one mile in 12:12, man how you lose your cardiorespiratory conditioning quickly. I wanted to do more but decided to stop there and build on that. Overall I felt like I knew I would, like someone who hasn't run in 6 months. Tomorrow I will get back out there and do it again and try to build back that conditioning nice and slow. One mile at a time is all I'm thinking about right now. It's kind of funny how long one mile felt when just 6 months ago 3 miles felt like nothing.
We got some really
good pictures tonight
of Rosie playing in the yard, she is growing and doing very well, already up to 10 pounds. Gracie and her are really getting along well.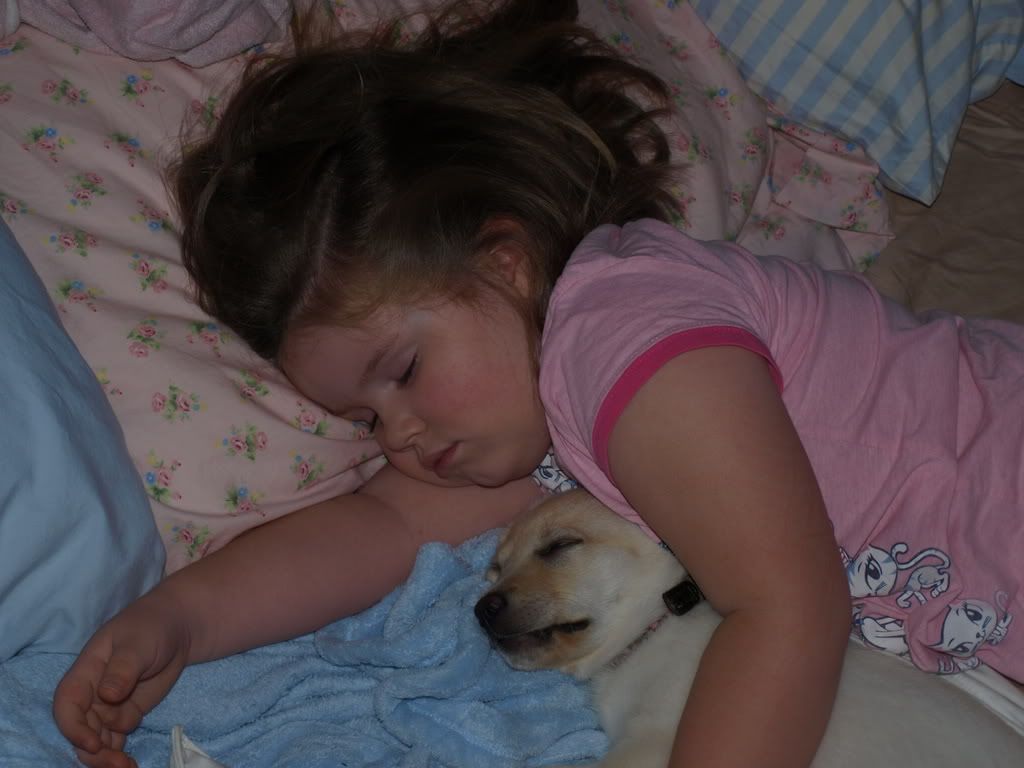 As you can see here Rosie fell asleep with Gracie last night. Gracie is having a bad hair day!:) They played off and on all Sunday afternoon, Gracie had a blast. This week her class is working on the letter "R" so Friday Ashli is taking Rosie in for Gracie's show and tell, I'm sure they will have a blast. Rosie has already learned to sit and come, is working on stay, and is almost potty trained, smart puppy.
Looking forward to this weekend. My father-in-law and I are going with a few other friends down to the car show in Myrtle Beach. Me and our friend Russ are going to camp out for the weekend and the older folks are going to stay at Hotel Jimmy's!:) Jimmy is one of my father-in-law's friends that lives down there. Russ and I decided to camp out. Hopefully I will be able to get up early Saturday morning and head out on a short run, will see. This will be the second year in a row taking my father-in-law's 71 Buick GS and Russ's 71 GSX. I will be getting lots of good pics of lots of nice cars.
Well, I look forward to now building my mileage and it really felt good to get back out on the road again even if it was just one mile. Make it a great Tuesday!