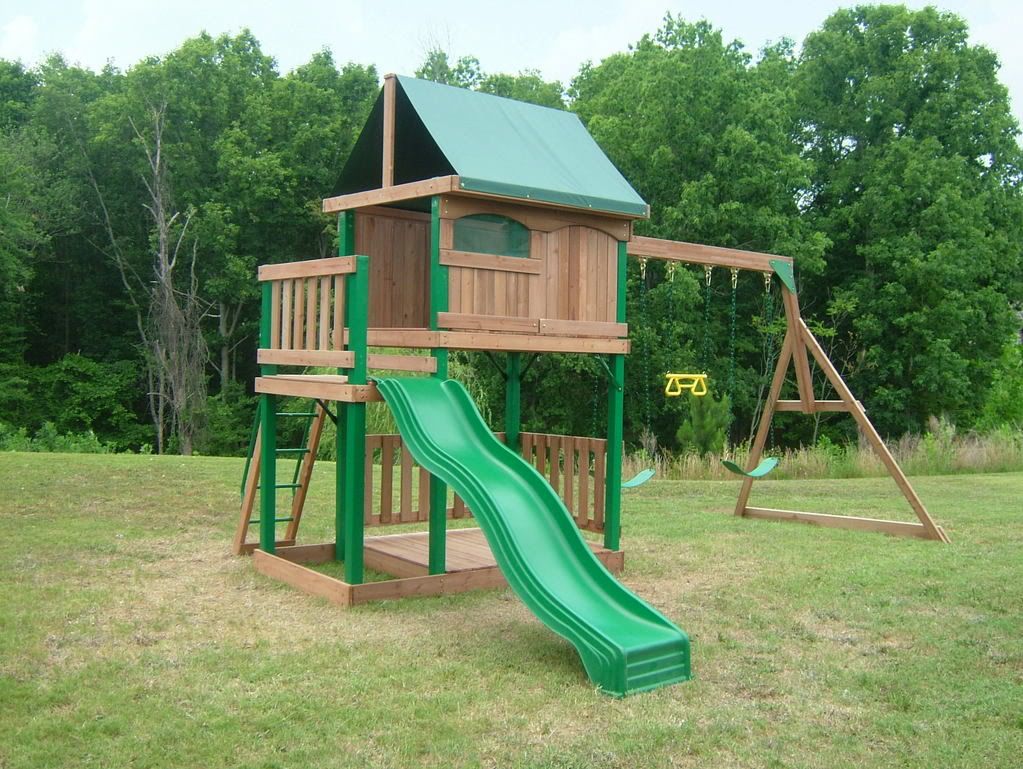 Wow...tonight we finally finished the play set and after dissecting terrible instructions, missing parts, and broken pieces, it is finished! I thought putting baby toys together was a challenge but this topped them all. This project started out Sunday afternoon when the Lowe's delivery guys pulled up around 1pm. After we started pulling all the parts out we quickly realized we had some broken and missing pieces and Ashli got on the horn with Lowe's and they were able to come out and replace everything by 4pm. So, we were able to finally put a dent into the assembly and we worked until about 7pm Sunday night. What made Sunday even more difficult was the heat. It was easily in the 90's and very humid. We made the mistake of not covering the hardware while working. Bob and I found out really fast how hot metal can get when left in the sun...OUCH! It was like grabbing a hot poker! Did we learn our lesson though...no for whatever reason we just continued to leave them sitting out baking in the sun! Well, after spending time on Monday and today it's now completed. They did short us one board which you can't see in the pic but the company is sending it to us and it should be here in a couple of days. It's just a small framing piece so no big deal.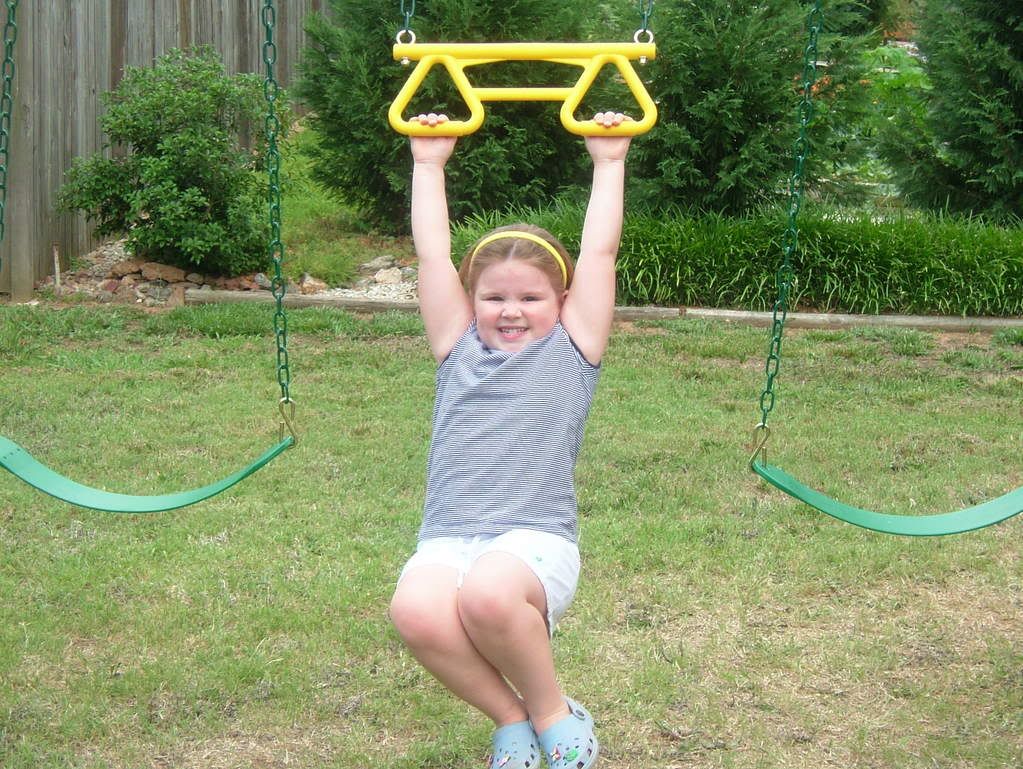 Here is Gracie enjoying the fruits of our labor and looking at this picture it was worth every pain staking moment! The play set is from Lowe's and manufactured by Leisure Time Products. Even though their directions were not the best and we had some missing parts (can't blame them for the damaged parts that was Lowe's) it really was well designed structurally and a very sturdy unit. I think SAM'S club has a very similar unit in fact it looks like it may be a Leisure Time Product as well based on the design. What I liked about the unit we got is that you can add to the play set. It has a tunnel, climbing wall, and another slide you can add to it if you want. It also has some cool smaller add-ons like a steering wheel, lookout telescope and a few other neat things. Underneath the little fort is an area for a sandbox so I will have to go down and pick up some sand in the next week or so. Ok, just so glad to get that finished.
To catch up on the workouts yesterday I was able to get a good strength workout in at lunch and I'm really starting to see awesome strength gains. I'm noticing also my body starting to change especially my mid section. I really want to make sure I have a strong core for my marathon so I'm working hard in the gym and on the diet to achieve that. It's not about wanting a six pack or anything like that just want good core strength.
I started something on June first that I forgot to mention. I started a pushup challenge to myself. On the first I did one pushup, on the second of June I did two pushups and so on. Today is the 12th so I did 12 pushups tonight. I'm gonna do the same thing in July only situps. My freezer is filled with boneless skinless chicken breast and the fridge filled with fruits and veggies. Today was a training day off but tomorrow will be double duty with a strength workout and a run. Diet tomorrow will just about be the same from today and Monday. I'm averaging about 2200 calories of all clean foods a day. Well, I have a class in the morning so I must get my beauty sleep!:) Have a great Wednesday. - Jason